Tenure-Track Assistant Professor in Atmospheric Sciences
Employer

Location

Salt Lake City, Utah

Closing date

Dec 7, 2021
View more
Discipline

Career Level

Education Level

Job Type

Relocation Cost

Sector Type
Tenure-Track Assistant Professor in Atmospheric Sciences
The Department of Atmospheric Sciences at the University of Utah invites applications for a tenure-track faculty position at the Assistant Professor level beginning as early as August 1, 2022. We seek scholars with diverse interests in the atmospheric sciences that relate to critical societal issues including, but not limited to, weather and climate impacts (e.g., water availability, floods, and droughts), hazardous weather and wildfires, and air quality and human health.
Successful applicants will be expected to develop a high-impact research program, use innovative teaching methods to promote undergraduate and graduate educational success, contribute to a diverse and inclusive environment within the Department and University, and have the potential to address societally-relevant challenges requiring interdisciplinary approaches and teamwork. We encourage applications from candidates using novel approaches related to measurements and/or modeling in atmospheric sciences and related fields. Applicants must have an earned Ph.D. in a STEM field by the negotiated start date, have excellent communication, interpersonal, and organizational skills, and have demonstrated potential to conduct and publish collaborative, high-quality research.
Current research, educational, and outreach activities in the Department and additional information related to this position are available here.  The Department is helping to establish a new interdisciplinary framework for earth and environmental sciences at the University of Utah and will be moving, by 2024, into a new state-funded research, teaching, and outreach building to be shared with the Department of Physics & Astronomy. These physical and organizational changes are designed to further promote interdisciplinary teaching and research collaborations.
The Department of Atmospheric Sciences and the University of Utah value equity, diversity, inclusion, and belonging. Our excellence in research, teaching, and service can only be fully realized by faculty, students, and staff who share our commitment to these values. The Department is committed to removing barriers that have been traditionally encountered by individuals from underrepresented groups, recruiting faculty who will further enhance our diversity, and supporting their academic, professional, and personal success.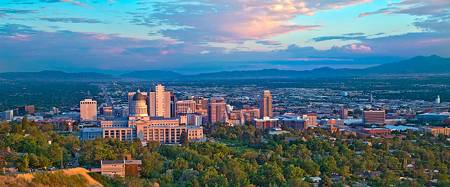 Explore Utah
The University is located in Salt Lake City at the foothills of the Wasatch Mountains with nearby world-class cultural and recreational opportunities. The University of Utah is a member of the prestigious Association of American Universities and is recognized for innovative efforts to advance knowledge and address grand societal challenges. The University enrolls more than 33,000 students with 32% of our incoming, domestic freshmen coming from historically underserved populations.
The University of Utah Department of Atmospheric Sciences is the leading program of weather and climate-related research and education in the Intermountain West and is recognized internationally for its expertise in cloud-climate interactions, mountain meteorology, climate physics and dynamics, weather and climate modeling, and tropical meteorology. Many of our faculty members are actively engaged in interdisciplinary research projects bridging multiple departments/colleges on campus and beyond. These activities are enhanced by the Global Climate & Sustainability Center (GCSC) which serves as a nexus for bringing together researchers from across campus and the Center for High Performance Computing (CHPC) which deploys and operates high performance computational resources and provides advanced user support and training. The Department is also committed to providing experiential learning opportunities to undergraduate students through our student-run Weather Center and our NSF-sponsored, Research Experience in Alpine Meteorology (REALM) program.

How to Apply
Inquiries may be addressed to the chair of the search committee, Prof. Kevin Perry (kevin.perry@utah.edu). Applicants should send the following documents, and adhere to the page limits for each section: (1) a cover letter that addresses your particular interest in the position and the University of Utah (one page), (2) a CV, (3) a description of your research accomplishments and independent research plans (two pages), (4) a description of your teaching experience and interests (one page), (5) a description of how your teaching, service and/or scholarship has supported the success of students from racial, ethnic, and gender backgrounds that are underrepresented in our academic field; applicants who have not yet had the opportunity for such experience should note how their work will further Utah's commitment to diversity (one page); (6) up to three publications or preprints, and (7) the names and contact information for three professional references. Applications will be accepted electronically in PDF format at http://utah.peopleadmin.com/postings/125392. Our review of applications will begin on December 10, 2021, but the position will remain open until filled.
The University of Utah values candidates who have experience working in settings with students, staff, faculty, and patients from diverse backgrounds and possess a strong commitment to improving access to higher education, employment opportunities, and quality healthcare for historically underrepresented groups. Individuals from historically underrepresented groups, such as minorities, women, qualified persons with disabilities, and protected veterans are encouraged to apply. Veterans' preference is extended to qualified applicants, upon request and consistent with University policy and Utah state law. Upon request, reasonable accommodations in the application process will be provided to individuals with disabilities.
The University of Utah is an Affirmative Action/Equal Opportunity employer and does not discriminate based upon race, ethnicity, color, religion, national origin, age, disability, sex, sexual orientation, gender, gender identity, gender expression, pregnancy, pregnancy-related conditions, genetic information, or protected veteran's status. The University does not discriminate on the basis of sex in the education program or activity that it operates, as required by Title IX and 34 CFR part 106. The requirement not to discriminate in education programs or activities extends to admission and employment. Inquiries about the application of Title IX and its regulations may be referred to the Title IX Coordinator, to the Department of Education, Office for Civil Rights, or both.
To request a reasonable accommodation for a disability or if you or someone you know has experienced discrimination or sexual misconduct including sexual harassment, you may contact the Director/Title IX Coordinator in the Office of Equal Opportunity and Affirmative Action:
Director/ Title IX Coordinator
Office of Equal Opportunity and Affirmative Action (OEO/AA)
135 Park Building
Salt Lake City, UT 84112
801-581-8365
oeo@utah.edu
Online reports may be submitted at oeo.utah.edu. For more information: https://www.utah.edu/nondiscrimination/. To inquire about this posting, email: employment@utah.edu or call 801-581-2300.
Notice    
The University is a participating employer with Utah Retirement Systems ("URS"). Eligible new hires with prior URS service may elect to enroll in URS if they make the election before they become eligible for retirement (usually the first day of work). Contact Human Resources at (801) 581-7447 for information. Individuals who previously retired and are receiving monthly retirement benefits from URS are subject to URS' post-retirement rules and restrictions. Please contact Utah Retirement Systems at (801) 366-7770 or (800) 695-4877 or University Human Resource Management at (801) 581-7447 if you have questions regarding the post-retirement rules. 
 
This position may require the successful completion of a criminal background check and/or drug screen and immunizations.
Get job alerts
Create a job alert and receive personalized job recommendations straight to your inbox.
Create alert